Koogeek DW1 Door/Window Sensor (review)
Note: This review has been updated to include a brief reply from Koogeek regarding one of the issues I had with the device.
There's a saying, "You get what you pay for", and if you're not familiar with this, then it basically means the less you spend, the lower the quality, and the lower you're expectations should be. There are a few notable exceptions to this, but in this case, the saying is unfortunately more appropriate with the new Koogeek Door & Window Sensor.
At around half the price of the Elgato Eve Door & Window Sensor, this was quite a tempting purchase, based on my previous experiences with Koogeek products I purchased (the P2 Smart Plug and the 01US-1 Smart Power strip), both of which have been pretty reliable.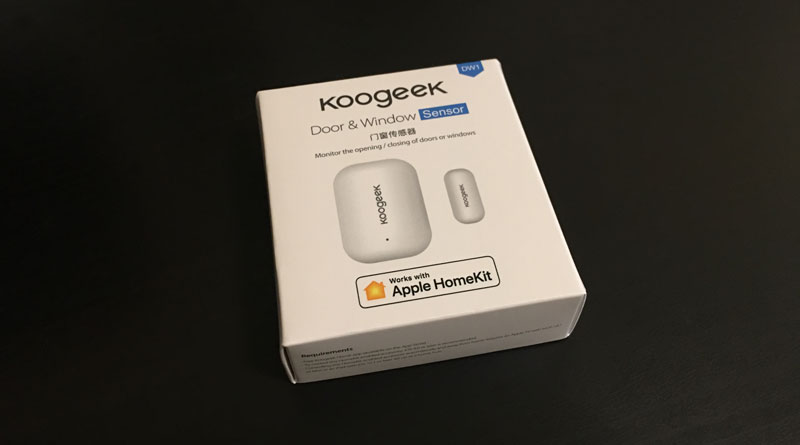 So the package arrived from China this morning, and after opening the outer packaging, I'm present with a nice, 'Apple Style' carton, which felt pretty sturdy, and even had a little tab at the back to make it easy to remove the snugly fitting lid.
Once opened, you're presented with the device itself, and while the size of the 'brains' of the device is as you'd expect, the magnet part is tiny – probably the size of a butterbean, but thinner! You also get the HomeKit code stuck at the bottom, which is also stuck to the front of the included instruction booklet. You also get a spare set of adhesive panels and a simcard pin, for resetting the device when necessary.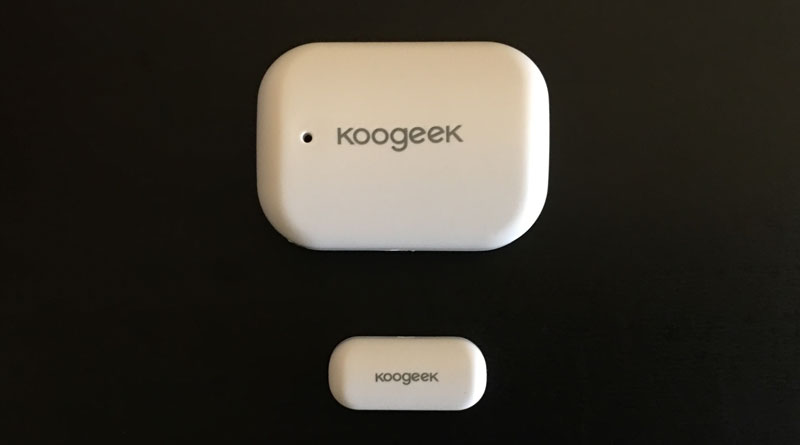 Now onto the setting up, which I have to say, whilst easy, resulted in an unpleasant surprise.
As soon as I scanned the code in, I was presented with the following warning "Uncertified Accessory. This accessory is not certified for HomeKit and may not work reliably or securely with this iOS device – Add Anyway/Cancel"
What?? The packaging and the included HomeKit code clearly show this is supposed to be certified, and I'm sure it is, but according to iOS 11.3 it isn't. Whether this is a bug or some other issue is of no concern to me, it just shouldn't be happening at all. It has been suggested that it could be a loose MFi certification chip, so it may just be a faulty unit. I added it anyway then immediately checked to see the details of the newly added device, and in the Details panel and right across the top it says pretty much the same thing "This accessory is not certified for HomeKit and may not work reliably with HomeKit". Great…
For the record, I have reached out for a comment on this from Koogeek via their Reddit channel and am awaiting a response on the off-chance that I've done something wrong. Will append this review with their reply (reply from Koogeek at the end of this article).
Anyway, that all aside, it does appear in the Home app, and seems to work fairly well. The response time isn't amazingly fast, but it's good enough for a Bluetooth device, like the Elgato Eve sensor. The unit works off a CR2450 cell battery, so it should last anywhere between 6 months to 2 years depending on usage.
On the subject of the battery, here was another big disappointment; Chris Young from Homekitgeek.com had mentioned that getting into the device seemed almost impossible without incurring some sort of damage to the casing, but was hopeful that his particular unit was just a one-off, with a very tight casing. However, he's not alone. I've struggled to get the case open so far, and have actually given in, worrying that I'll break the unit before I've even used it. It really is put together far too tightly.
Strangely enough, Koogeek posted a video showing how to open the device, but this led to more questions than answers; In the video, a person is shown opening it up using their fingernail. I haven't got nails like this, so I asked someone in the home that does, and they couldn't open it either. That aside, the video showed the unit being opened in their hand, but in practice, this unit will already be attached to the door or door frame, so it's going to be even less accessible or easy to be able to open the unit when it comes to replacing the battery. This issue, along with the 'uncertified accessory' question led me to be generally quite disappointed with the device, and if you go back to my opening statement, it really rings true in this case – "You get what you pay for".
Update:
So, I contacted Koogeek via their Reddit page, and explained the issue with 'non-certification' and after a 6 day wait, they finally replied. It would seem that my device may have a loose MFi chip, which could be causing the issue. They told me to send it back to the reseller (TomTop), but I declined, stating that apart from this issue, it actually works as intended, so rather than spend money and go through all the hassle of hoping it gets to it's destination, I would keep it. I have actually ordered another unit, so I'm fully expecting that the issue will not occur with this second device.