Promemoria Zip.ico Smart Lamp
Zip.ico is a table lamp, with an essential design and compact dimensions. All Promemoria products are the result of an artisan attention to detail and original material combinations. Zip.ico adds an important characteristic: technological research. The result is an evocative and functional object, not just beautiful to the eye, but also to the touch.
Zip.ico technological core is enclosed in an aluminum shell, available in three colors: gold, silver and bronze. A lampshade in cotton and methacrylate diffusers complete the design of the lamp.
The beauty of Zip.ico is all in one touch. The lamp lights up by a touch button positioned on the stem, which is also able to switch off and gradually adjust brightness.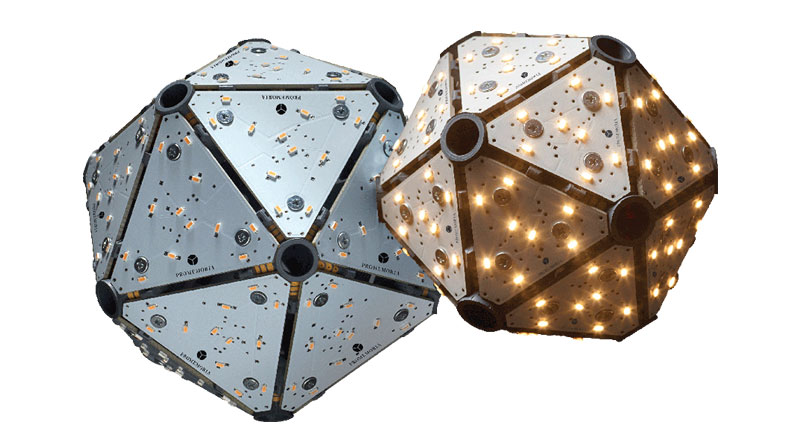 The need to create a low-energy light source that retained the same characteristics of light, color and directionality of the old incandescent light bulbs, led Promemoria's Research and Development department to patent an innovative and technological LED lighting system.
Thanks to its particular shape, Icosaedro allows a 360° diffusion of the light spectrum, unlike all the other LED systems that are unidirectional. The intense brightness of Icosaedro is given by its geometry, which allows to accommodate up to 12 LED chips on each triangular face.
Zip.ico can be controlled simply and securely using the Apple Home app on iPhone, iPad, iPod touch, or using Siri from any Apple device, including HomePod.
Zip.ico can be set up to work with other accessories through scenes or grouped by room, and even be set up to turn on and off automatically.
HomeKit enables simple and secure control and set up, interoperability with other HomeKit accessories, remote access, true home automation, and more. HomeKit is also private, so anything you do in your home through the Home app or Siri is private to you.
Zip.ico is part of a new generation of home furnishing accessories, connected with each other and with us in an intimate way. Remotely controllable, this new lamp by Promemoria connects via Wi-Fi to Apple devices. You can turn on, turn off and adjust brightness without having to stop what you are doing.
technical specifications
DESCRIPTION:Portable table lamp with LED as light source
DESIGNER:Romeo Sozzi – Promemoria
DIMENSIONS:ø133/4xh2011/16 inches
WEIGHT:5,51 lbs
LIGHTING:ICOSAEDRO LED 15 W, 360° light spread – correlated colour temperature: 2 700 K
COLOURS AND MATERIALS:Painted aluminium in the colours: gold – silver – bronze. White cotton lampshade
ELECTRICITY SUPPLY:20 V DC
RELATED POWER:15 W max
FUNCTION CONTROL:ON/OFF and dimmable via touch and Wi-Fi. Controllable via Apple HomeKit
CERTIFICATION:
INCLUDED IN THE BOX:Zip.ico lamp and lampshade; instruction leaflet