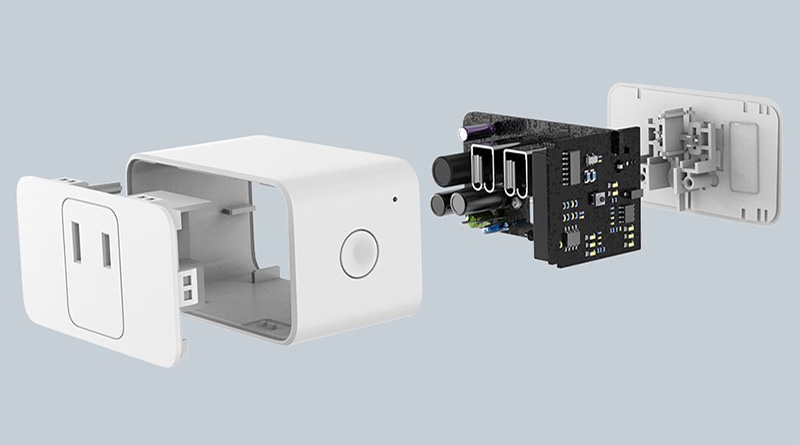 New high performance SAACHSO wifi smart plug smart outlet improved in performance for Japan It applies to Alexa (Echo, Echo Plus, Echo Dot) Google Home, Apple Homekit (even without these smart device facilities, Unlike US specification plugs that are already on sale on Amazon, SAACHSO wifi smart plug smart outlets are two outlets of Japan specifications, so conversion plugs are unnecessary, and the voltage that can be handled further is Since it is 100 V to 125 V, frequency 50/60 Hz, maximum current 15 A, there is no worry of shorting. SHAACSO Smart Plug Smart outlet is a simple design, it will not damage the interior of the room no matter where you put it, with reasonable dimensional design, if you use composite taps, more appliances can function as information appliances Is possible!


The new improved SAACHSO wifi smart plug has four safety guarantees: the old model Wifi smart plug main body heat resistance temperature is only 450 ° C, while the new model can withstand the high heat of 750 ° C; old New products are protected by this double safety measure against products that do not have insulation pads and silicon sheets for heat conduction; new products embedded in the smart plug, temperature sensors are buried, real time high Detects plug internal temperature when using output home appliances. You can inform the danger when the temperature rises obviously. If the temperature is too high, the power will be shut off automatically. The SHAACSO WiFi smart plug has already obtained the certification of Telec and PSE on safety guarantee, and you can use it safely and securely.

SAACHSO's new wifi smart plug can improve the application system for Japanese customers and upgrade via the net. If you connect your home appliances to the SHAACSO smart outlet, you can operate the remote control from the smartphone. Before going home from work, turn on the electric rice cooker prepared by smartphone, heat the oven, start the aroma diffuser of the entrance, turn on the air conditioner in the living room, start hot water in the bathroom Or you can. When you get tired home, you can activate Alexa, Google home, homekit assistant with audio only, lights and music can be played. With such a small wireless remote control socket, we will prepare a warm house. By using SHAACSO Smart Outlet and Smart Assistant in combination, you can operate home appliances with just voice! Let's change ordinary household appliances to information appliances!

Improved SAACHSO's new Wifi smart plug has added detection function for home appliances use condition. While I am away from home or on a business trip for a long time, I do not mind forgetting to turn off the lights! You can check the usage status of wifi smart plug with mobile application, and turn off electricity and household appliances. Also, you can grasp the state of household appliances of elderly people living alone from the usage of smart outlets. You can also set the energy saving automatic switch on / off function. IOS · You can set home appliances such as humidifier, air conditioner, refrigerator, microwave oven, etc. with maximum 15 A and 1800 W on Android smartphone, PC, tablet. Eg: When I leave home for work everyday, the humidifier and air conditioner automatically stops and you can set it to automatically operate 30 minutes before going home.

Reliable SUPPORT and Customer Service: If you have any problems with the item you purchased, click the store name (SHAACSO) under [About Stock Status] on the product page, click [Ask a Question] on the upper right please. We will correspond free of charge exchange, refund and refund, so please feel free to contact us. The product has a warranty period of 12 months, you can purchase it with confidence. Package contents: 2 smart plugs · instruction manual. SHAACSO will lead your lifestyle to safer, comfortable and convenient. Let's enjoy smart home electronics life to intelligent era with us.