IT4WIFI module for control via smartphone for controllers with Opera interface
Control the access and garage door from your Apple device or Android device
Would you like to come home and find the garage door already open?
Would you like to be able to check if it is closed properly when you are not there?
Now you can control access to your garage, and thus to your home, with the Nice IT4WIFI interface connected to your Wi-Fi directly from your iPhone or Apple Watch, even when you are away: at any time and from every place.
IT4WIFI has been carefully designed to be compatible with the Apple HomeKit: the Nice (*) powered garage door can therefore be controlled via the app connected to your Home Hub for easy use, enhanced security and intelligent integration.
A single app for all devices of your home
With Apple Home, you can easily control your HomeKit devices, even in remote mode, for a smarter and more advanced home. Apple Home.
Using your iPhone, you can turn off the lights and use your iPad to control who rings the doorbell. And of course you can open the garage door with the iPhone or Apple Watch when you get home. And if you configure your Apple TV or iPad as a Home Hub, you can control your home no matter where you are.
You can also create preset scenarios that involve different actions: for example, you can configure the Back Home scenario to simultaneously open the garage door, turn on the lights, and open the blinds, all from a single command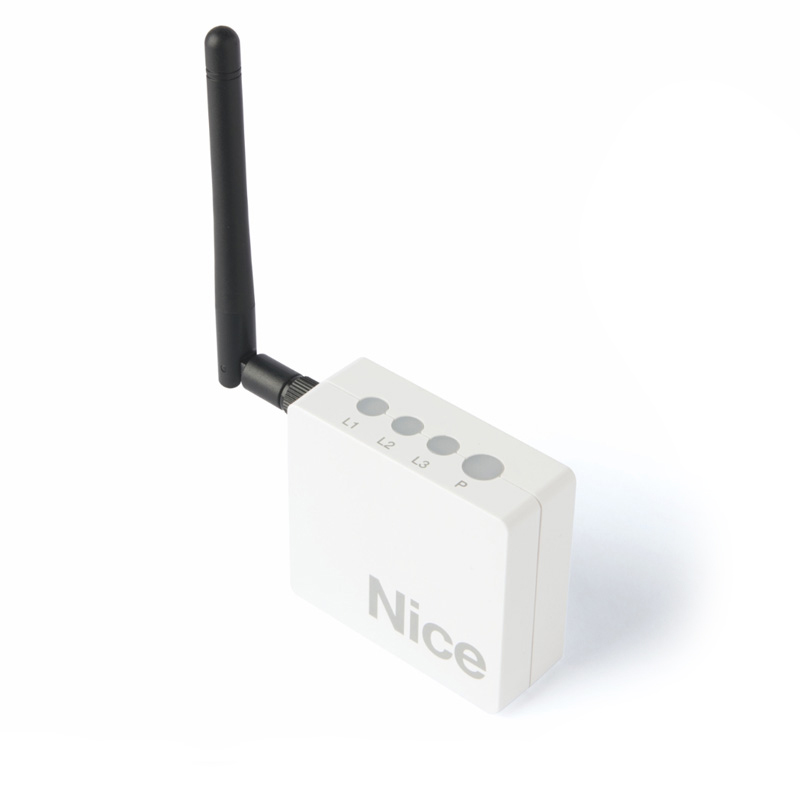 Functions and requirements
SUPPORTED EQUIPMENT

Apple iPhone with iOS 10 or later and Apple Watch

COMPATIBLE APPS

Apple App "Home" available in iOS 10 (or later versions)
Nice app "MyNice Welcome HK"

KEY FEATURES

Compatible with Nice garage door controls using the BusT4 protocol (*)
Compatible with Siri
Controllable only via remote mode if Apple TV or iPad is configured as Home Hub

TO INSTALL THE PRODUCT IS NECESSARY

Nice drive unit for garage door with BusT4 connection or plug for IBT4N
Access Point WLAN b / g / n, which supports Apple's Bonjour service
iPhone with iOS 10 (or newer versions)

THE KIT CONTAINS

Device IT4WIFI
Interface IBT4N
Patch cable for connection

TENSION

24 V (directly from the drive unit)

DIMENSIONS

58 mm x 63 mm x 24 mm (without SMA plug and antenna)

MASS

60 g