Opro9 at Computex 2018, Taipei
Computex 2018, held annually in Taipei, is among the largest computer and technology trade shows in the world, and considering that I live in Taipei, and Opro9 (also based in Taipei) were going to have their  booth there, I took it upon myself to take a visit, introduce myself to the team, and give them the lowdown on the website. In turn, I was given a look at some of their products, one of which I recently mentioned in a separate article; the Opro9 Smart Air Purifier. Excitingly enough, this wasn't the only product they plan to unleash into the HomeKit ecosystem.
Smart Air Purifier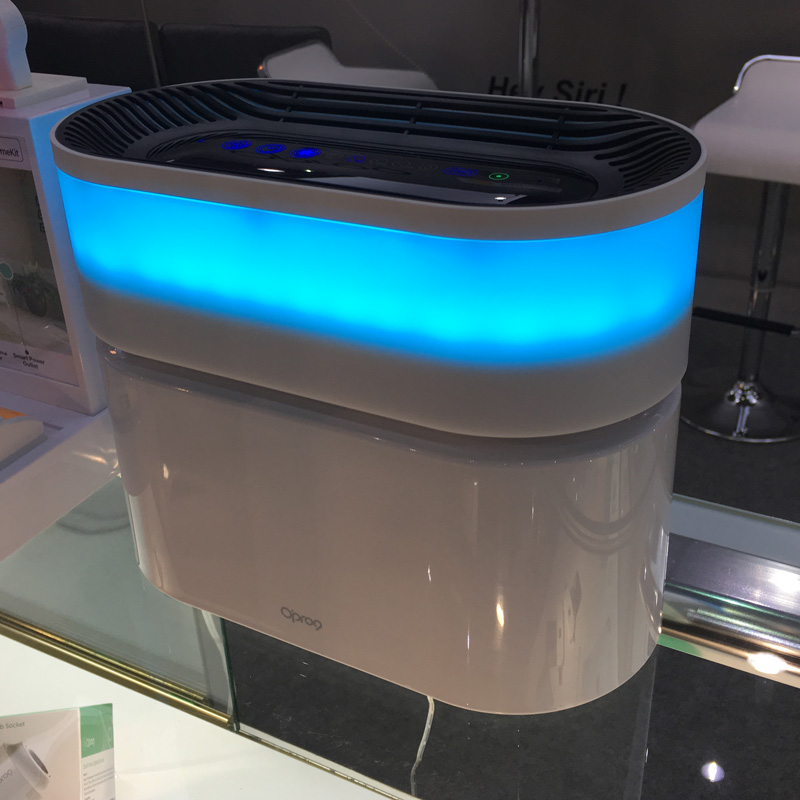 firstly, I'll start of with what information I have on the Smart Air Purifier. The device is actually quite small, measuring only 265 x 210 x 133mm. This would indicate it's designed for more personal use cases than purifying large rooms, so it would be more suited to a bedroom, or perhaps underneath your dining table or work desk. The one thing that sets this apart from standard air purifiers is that instead of using an air filter, the device uses a water tank to clean the air, removing particulate matter. I'm not a very technical person, but if it works and I don't need to keep buying filters and just fill the tank from the tap, that's a great thing!
The device can be physically controlled with a set of touch-sensitive buttons across the top, with presets for timers, fans speeds and a separate control for the light – yes, the very large light at the top end of the device you may have noticed! The light can be controlled and the colour altered with the physical controls, but the primary reason for the lights is to indicate the air quality level in the immediate vicinity around the device. Given that it is almost certainly using a set of colour LEDs, one can assume it's capable of the standard 16million colours, but as of writing, that is yet to be confirmed. There's also an indicator on top of the device to show when you should change the water.
There's no word on pricing, so I can't really give an idea of value for money. However, if it's priced fairly competitively, taking into account the savings you would make over not having to replace a filter, it could be a good purchase over the course of the life of the device.
Further Details and Specs
HomeKit compatible
intuitive air quality indicator
2/8/12 hour easy-to-set timer
3 step fan speed, allowing you to adjust the speed level directly
indicator for warning you when to replace the water in the tank
air anion generator leads to an electro-reaction that deactivates bacteria
manual controls to select 4 kinds of scenario lights
consumes only 9.5 watts to operate.
filter-free
wifi – 2.4gHz IEEE 802.11 b/g/n
wireless security – WPA personal, WPA2 personal
adaptor voltage – 100-240V AC
input voltage – DC 12V / 1A
maximum power – 9.5W
dimension – 265 x 210 x 133mm
weight – 1.5kg
water capacity – 2000ml
certifications – CE/FCC/SRRC/BSMI/NCC/ETC/TELEC/PSE/RoHS/CADR
Smart Aroma Diffuser
The Smart Aroma Diffuser is the second HomeKit product on display at the Opro9 stand and unlike the Air Purifier, is a lot more understated, although clearly following the same general design traits. Standing at 209mm it's certainly not going to go unnoticed, but depending on where you place it, that may not be an issue. As the name of the product states, this is an aroma diffuser, but it's also a standard humidifier as well. So, if you just want to add humidity to your place, then you simply add water. Adding the appropriate 'aroma' to the water supply will add a pleasant background smell too. The device has built-in lighting, although I didn't get to see the lights in action at the time. Its a fairly simple device, but certainly a welcome addition to the HomeKit world, I feel.
Further Details and Specs
HomeKit compatible
smart control and set timers for convenience
1/3/8 hour easy-to-set timer
indicator for warning you when to replace the water in the tank
auto turn-off when water reservoir becomes empty
16million colours available with the built-in LED light
manual controls to select 5 different light scenarios
automatic detection of humidity levels for when the device turns on or off
wifi – 2.4gHz IEEE 802.11 b/g/n
wireless security – WPA personal, WPA2 personal
adaptor voltage – 100-240V AC
input voltage – DC 24V / 1A
maximum power – 19W
dimension – 86.8 x 113.3 x 209mm
weight – 0.476kg
water capacity – 200ml
certifications – SRRC/RoHS
Smart Light Switch Control Box | Smart Light Dimmer Switch Control box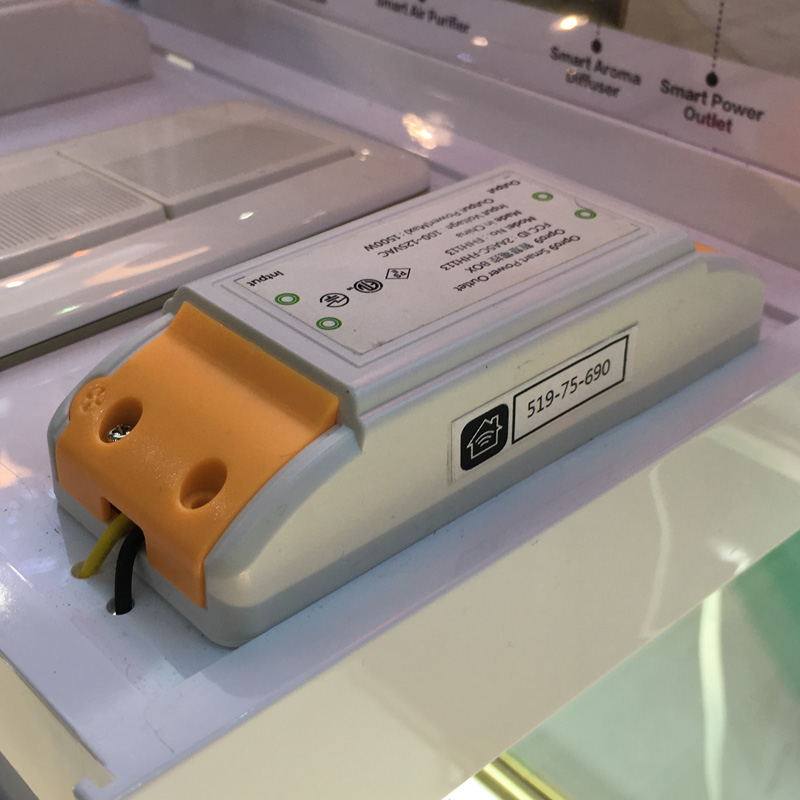 These are the final new additions to the current crop of Opro9 HomeKit-enabled devices, and if you're not familiar with this type of product, they are basically electronic switches that control the power to your standard physical in-wall light switches, but they site in the recess behind the switch itself. The benefit of this is that you can still have your own favourite types of 'dumb' switches, but with the added smart factor 'behind the scenes', as it were. Representatives at Opro9 informed me that at present they aren't planning on selling these direct to consumers, instead only selling to construction companies that build new houses. The reason for this, they said, was that this kind of electrical DIY isn't very popular in Asia. I informed them that it's just the opposite in the west and, depending on the price point, these types of devices are already quite popular, if still a little 'under the radar' compared to other HomeKit devices. So, hopefully they'll change this and offer them to consumers in the near future.
They currently have two versions of this product; one for standard 1-gang switches, and one for 1-gang switches suitable for dimming.
Further Details and Specs
HomeKit compatible
wifi control by app or voice (Siri)
remote dimming control (dimmer unit only)
Certification – ETL/FCC/NCC/CE
input type – power cable L/N
output type – power cable L/N
load – max. 1500W
line voltage – Max. 250V AC | Min 100V AC
product dimensions – 115 x 45.2 x 27.5mm
weight – 80g
wifi – 2.4gHz IEEE 802.11 b/g/n
Other Opro9 products that are already available include the Smart Socket and the Smart Plug