Philips Hue Lightstrip Plus (review)
Today, I'll be reviewing the Lightstrip Plus, from the Philips Hue range.
Setup:
The Lightstrip is a fantastic way of adding ambient lighting and colour to your space at home. Simply connect the light strip to your existing Philips Hue Bridge (sold separately and required for the light strip to work). This will allow you access to over 16 million colours and shades of white via the app on your phone. To do this, if you aren't already clued up, you will have to open the Philips Hue app, navigate to the Settings button on the bottom right, tap Light Setup, then tap the + button on the bottom right, follow the instructions on the screen, then tap Search. This will enable your Hue Bridge to discover any new Hue devices, your light strip will pop up in here.
Specs:
The strip comes as a 2 metre (80 inch) piece, with all needed power adapters. The strip will allow you to start delving into the ambience of the strip. If and when you want to extend your light strip, you can buy 1 metre (40 inch) long extensions and take your strip all the way to 10 metres (33 feet) in total. These simply connect with a 6 pin male connector that slots into a female connector on the other end. This allows so much versatility when placing your strip as you can have it as long or short as you need. You can then make fine adjustments and cut the strip around every 2-3 inches, so if you find your strip is just too long, you can cut the excess off. However, once you have cut the excess parts off, you will not be able to use them again, unless you are handy with a soldering iron and solder a new connector onto the pins of the part you cut off.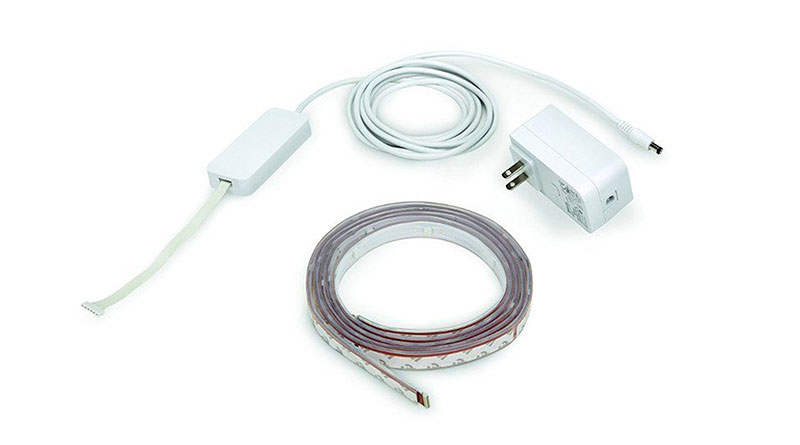 The power adapter supplied with the strip states it will output a power of 20.5W when at 4200K, with a total light output of 1600 lumens which is surprisingly very bright when you've got the strip placed. This is ever so slightly misleading though, as the initial 2 metre strip says it is 1600 lumens, which would make you think you'd be getting around 800 lumens per metre, so whenever you add another metre extension, your lumen count would go up by 800. This is not the case, as the power supply will only totally be able to supply enough power for the ENTIRE strip to be 1600 lumens, so if you were to extend the strip to 2/3/4 metres and so on, this will always stay at a max of 1600 lumens.
Smart Home Integration:
Being part of the Hue ecosystem, the strip works flawlessly with any app or service you throw at it. HomeKit, Hue, Yeti, Elgato Eve are just a few of the apps that will work. With Apple HomePod, Amazon Alexa and Google Home all working perfectly, so you can have handsfree use of your light strip.
There are also many other accessories that will work with the strip, these can include the Hue Tap switch, Hue Dimmer Switch, Hue motion sensor. It'll also connect to third party accessories for full control. These can include the smartthings hub, the harmony hub, other motion sensors (when set up with the Apple Home app).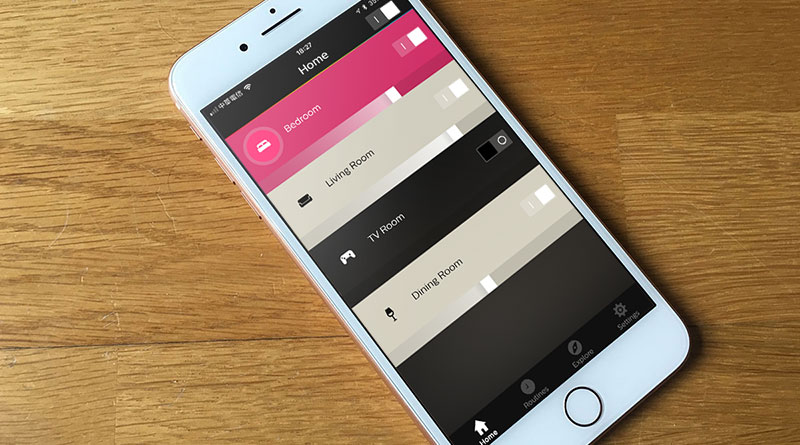 Overview:
I have found the colour output and match to be generally quite accurate, if I select a blue on my phone, the strip will have the same colour (as silly as this sounds, some of the earlier Philips Hue range had issues with exact colour matches) but this is due to the light strip being part of Philips' updated range of Hue items which are branded as "richer colours". The colours it reproduces are so beautiful, they do flood your room with colour, even sometimes being too bright, which is still good, because you can just turn the brightness down on the app of your choice. But this is not a criticism at all. It is a brilliant way of getting ambient lighting into your room. I keep specifying "ambient lighting" and this is because this is exactly what the strip is for. It can't really be used as a source of direct light as such, you will want to hide it up somewhere otherwise you will start to see each individual LED, which can cause breaks in the light. However, if you do wish to use it for a direct light, you can purchase third party light diffusers from your standard online retailers, which you can recess your light strip into, and it'll diffuse the light to give a more even spread.
Price:
The Philips Hue Light Strip Plus starts from around £70 (US$90, €70, AU$125). This isn't very cheap by any means, but it's certainly cheaper than some other smart strips on the market currently.
Conclusion:
If you want to get into Hue smart lighting and don't currently have it, you'll need a Hue Bridge first (which will allow your lights to communicate with your Wi-Fi, as the Hue system works with a protocol called ZigBee, and the Hue bridge essentially "translates" your Wi-Fi commands to ZigBee commands, so the lights can understand them. The Hue Bridge is sold separately, so you will have to purchase one of those first, to get your light working. Regardless if you are a new or existing Hue user, the Lightstrip Plus is definitely a great investment and will add a lot of colour to any room it's placed in.