LifeSmart Smart Station (review)
Important Note: For reasons unknown at this time, the LifeSmart app (client version 1.1.8p3 and above) for iOS no longer has the HomeKit code generating feature, so you will be unable to add the Smart Station or Smart Alarm to HomeKit.
The LifeSmart Smart Station, is simply a bridge to allow for interconnectivity between LifeSmart devices. However, it also allows some of these devices to be visible to HomeKit, much in the same way the Hue bulbs aren't Homekit compatible by themselves, but can be controlled by HomeKit once their exposed via the Hue Bridge.
Whether you use this just with LifeSmart products, or intend to connect it to HomeKit, you'll need to set it up via the free LifeSmart app. The app isn't amazing, but in some ways it looks quite stylish, and the set up instructions are well thought out and in English (Take note Xiaomi…). Once its set up, you can add other LifeSmart devices via the app, that are then guided via the Smart Station as the hub.
The hub itself comes with a standard cannon style power supply socket, an ethernet connection at the back to connect it to your router, a power button, a reset hole and two USB ports, for which I've currently found no use.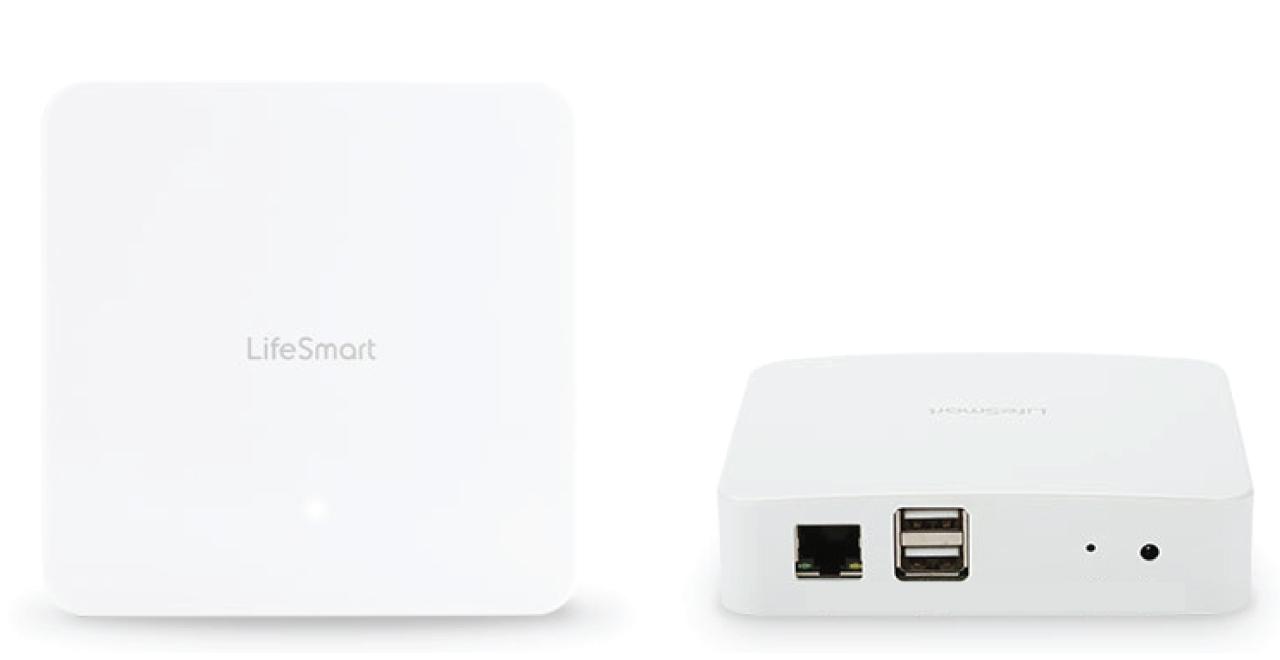 The hub itself connects to HomeKit via a simple setup switch in the app. You toggle the switch to 'on' and it produced a HomeKit code that you can then add via the Home app. When you do this, you will be warned that the device isn't certified by apple, but allows you to add it anyway. Once that's done, the Smart Station essentially appears as a hub. Devices that are connected to this hub will then appear in the Home app too, although some LifeSmart devices won't appear – I currently have 3 LifeSmart Spots, a LifeSmart motion sensor, 4 LifeSmart Bluetooth Tags, 3 LifeSmart Clickers 3 LifeSmart Blend Colour light bulbs. Of these, the clickers (essentially mini light switches) and the Bluetooth Tags don't appear in the Home app. I'm also told none of the LifeSmart cameras appear either, but as I haven't got one, I wouldn't know for sure.
Once you have this hub set up, you really don't have to think about it much, as it's really just an idle gateway that organises stuff for you in the background, so nothing amazing, but essential at the same time.