Honeywell Lyric Thermostat (review)
We have been using this thermostat for a while now, and it has been okay – once we got it working. Let me explain…I had to restore the thermostat 4 times and get back to factory settings, which for most people isn't a great user experience. However, once we got it working, it has been fairly well behaved. aesthetically, It looks good, and when it works, it works well.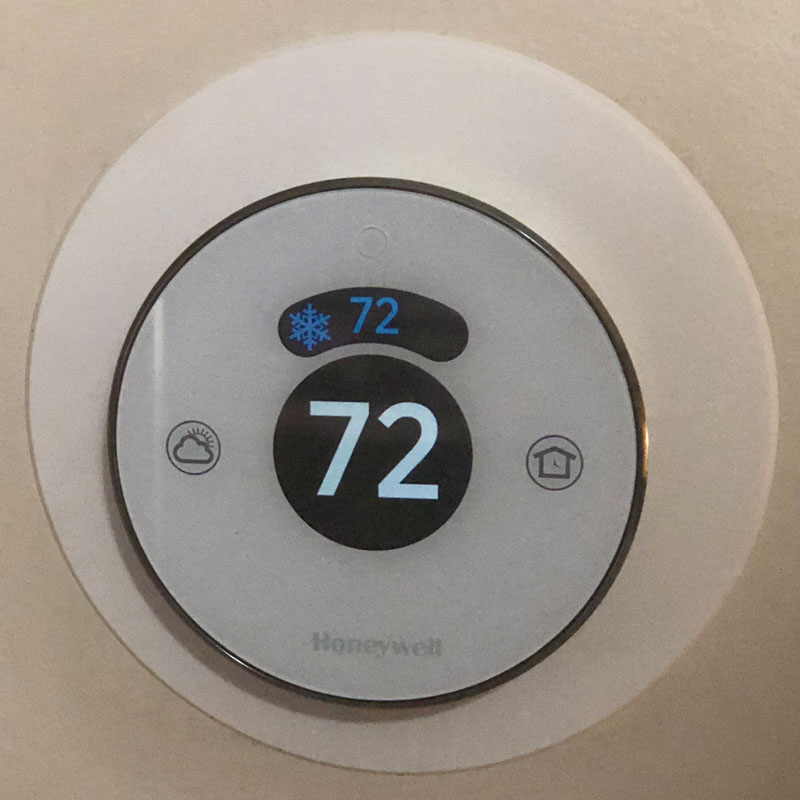 As for smart stuff that is included, It has geofencing built-in. This means that when your paired phone gets a certain distance from the device, it will go into economy mode. There are onscreen buttons that will allow quick access to presets and also allow for information on the weather outside, so you'll know whether to wear a sweater, or take an umbrella. As, just mentioned there are also different modes, so if you're working out at home and need the room to be a little cooler than normal, then a quick tap will do this for you. You can also quickly change the device from 'heat' to 'cool' if you're in a hurry.
As it's a thermostat, its main job is pretty standard in that it changes temperature. You can do this manually; you can control the preferred temperature via the 'wheel' on the thermostat itself. This wheel has haptic feedback, so you can 'feel' the moving wheel as you turn it. You can even schedule the thermostat to be off for a set amount of time, so if you know you're going to be out for 4 hours, you can dial that in quickly and it'll turn off until that time has elapsed.  you can also schedule timers  via the Honeywell app or the official Home app, which allows for further automation in addition to working with other HomeKit enabled devices. Finally, you also have the ability to control the thermostat via Siri.
On the subject of voice control, Siri gets almost all commands about 'heat' but not so much with 'cool' commands. Siri seems to prefer "siri thermostat –temp-", so stating the desired temperature is the best way to get it to respond. As for remote access, If you update the stat to 'off' while you're away, it doesn't go back to auto temp when you update that in any way. so, don't do that!
All in all we are happy with the Lyric, despite the few quirks.
Perfect for the future home – Works with Apple HomeKit(TM), Amazon Alexa, Samsung SmartThings and IFTTT

Control your Smart Home with Amazon Alexa for voice control (Alexa device sold separately) and Apple HomeKit with voice control using Siri, the Apple voice assistant

"Feels Like" temperature function considers both humidity and temperature to maintain your comfort

Adaptive recovery learns how long it takes to achieve the right temperature at the right time, with auto change from heat to cool

Smart Alerts – push notifications for filter changes and extreme temperatures

Minimum requirements: You'll need an 802.11 b/g/n wireless router and a smartphone or tablet with Android 4.2 and above or iOS 8.4 and above.

Energy Star Certified