Motion sensors are probably one of the more useful accessories for home automation, but as with anything in the world of technology, there can be a lot of variation as to what additional functions (if any) they pack into these gadgets, how they connect to a hub, and whether they even need a hub. There are a lot of different makes on the market right now, but today I'll mainly focus on the three that I have to hand and how each one of them has varying degrees of usefulness.
Elgato Eve Motion Sensor
So, the Elgato Eve was the first motion sensor I purchased, and while it worked, it had a pretty slow reaction time, which was also the same issue the Elgato Eve Door & Window Sensor suffered from. In December of 2017 however, Elgato issued a firmware update that took advantage of new Bluetooth protocols and suddenly the motion sensor was noticeably faster, pretty much on a par with the Hue Motion Sensor, which seems to be a benchmark for many people. Of the three sensors, this is by far the largest, coming in at 80 x 80 x 30mm, which makes it more than four times the size of the LifeSmart Cube Motion Sensor
The devices itself runs on 2 AA batteries, which should last around 6-12 months, depending on usage. As with most Elgato Eve products, this doesn't use wifi to connect to your hub (Apple TV, iPad, HomePod), instead relying on Bluetooth. It doesn't need a hub to function however, unless you want remote access. The benefits are that this will work (whilst in the house) even if the wifi goes down, but the transmission range of Bluetooth is smaller than that of wifi, so if you live in a large house and the hub is at one end, and your sensor is at the other, you're going to have problems. This particular scenario would still be an issue using wifi, but you can always use multiple hubs or wifi extenders, whereas bluetooth extenders seem to be quite elusive at present.
The sensor can be used free standing and looks quite modern and understated. It also has a hole on the back for a hook or nail, should you want to mount it somewhere. This is just a motion sensor, so there are no other sensors included.
Pros – no hub needed, Bluetooth (no wifi needed), logs motion events in Eve app
Cons – Quite large, Bluetooth limits range, no other sensors included
Philips Hue Motion Sensor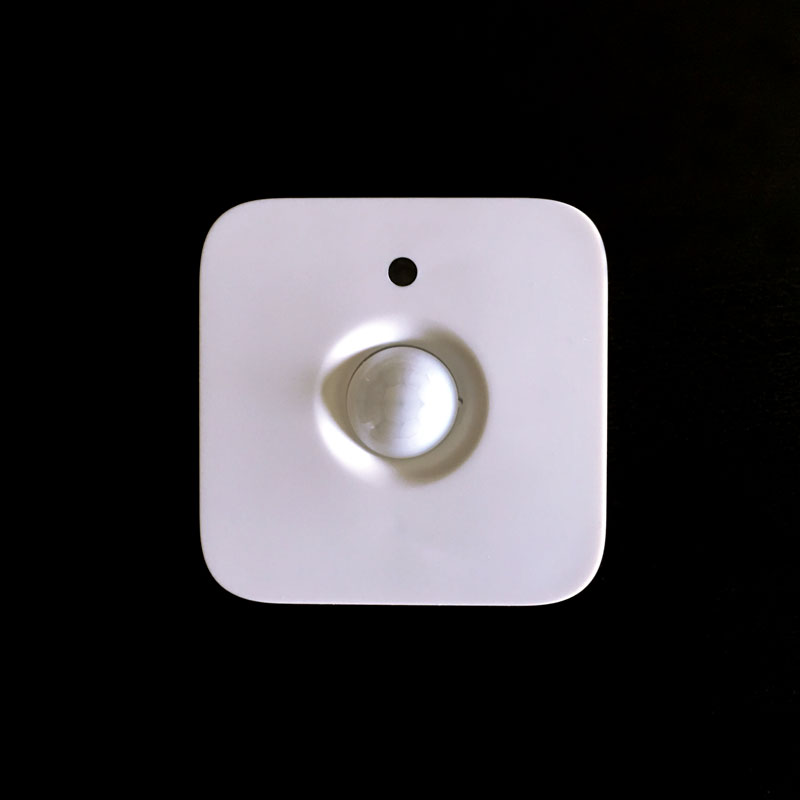 This was my second sensor purchase after deciding to dip into the Hue Ecosystem, once the Hue Bridge became HomeKit compatible. As soon as I got this up and running, it was very obvious how slow the Elgato Eve was (pre 2017 update). It really was almost instantaneous.
As this is part of the Philips Hue family of products, it appears in HomeKit only once you have the Hue Bridge installed and running, and this needs the Hue Bridge to work regardless of whether you use HomeKit or not.
The device runs off two AAA batteries, and as it needs the bridge, the connection is Zigbee, like all Hue products. The upside of Zigbee products is that they create a 'mesh' network, so as you add devices they spread the signal further, meaning being far away from the bridge needn't be an issue like it would if it were connected to a Wifi router.
It's about half the size of the Elgato Eve at 55 x 55 x 20mm, and the really neat thing about the Hue sensor is that it also includes temperature and ambient light sensors, which are very useful if you can get inventive with your automations. The sensor can be left freestanding, but it comes with a mounting bracket. This bracket works with magnets, so you screw the mount into the wall, then the sensor connects magnetically. The shape of the bracket allows the sensor to be angled, so you're not stuck with the sensor pointing straight ahead.
Pros – Zigbee (allows devices to be further from hub), very fast, includes two other sensors
Cons – Hue bridge required
LifeSmart Cube Motion Sensor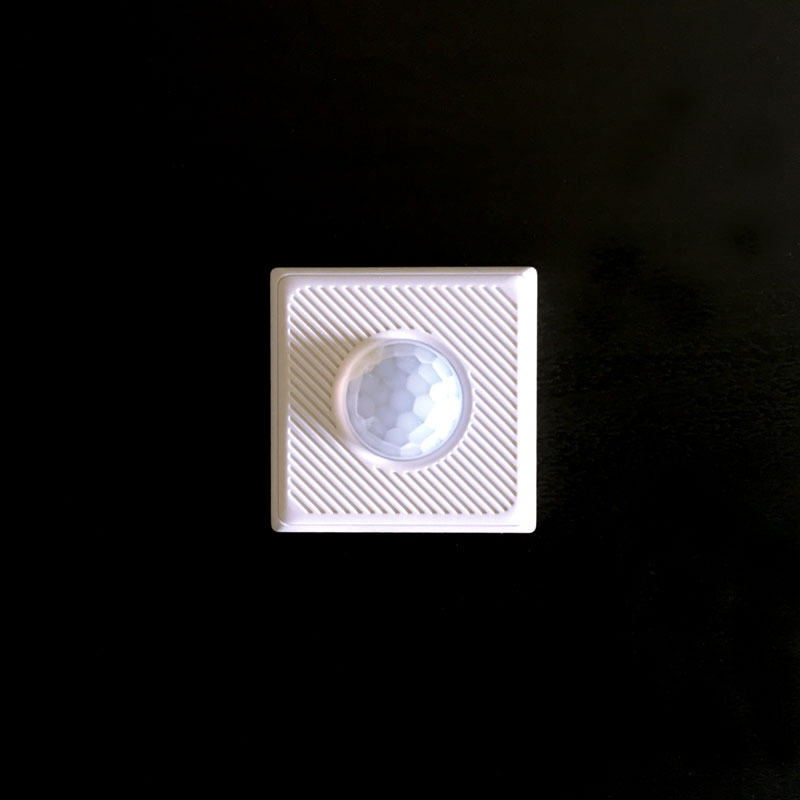 This has to be one of the smallest sensors out there right now, coming in at 34 x 34 x 15mm, and while it's small, it's also super fast, giving the other two sensors a run for their money.
A lot of people aren't aware of LifeSmart, who are based in China, but they do have a large range of devices, some of which are compatible with HomeKit. This device is compatible, but you do need one of their hubs in order to make it appear in the Home app, like the Hue system.
The sensor runs off a single CR2450 coin battery, and you should get at least 12 months usage from it. As it's so small, it's also rather light, so mounting, via the provided double-sided adhesive patch allows this to be mounted on any vertical surface although it can be just as easily stood on a shelf.
Of the three, this is the least attractive (imho), if that's an issue, with the diagonal lines making it come across as very 1980s (a la Binatone)!
The device also includes an ambient light sensor, although this particular sensor is not exposed to HomeKit at all, so not even the Home/Brutella app is able to see it. Currently, the only option to use the light sensor is via the LifeSmart app. Despite this, the sensor is about a 3rd cheaper than the Hue and half the price of the Elgato, so even with just one sensor exposed, it's not bad.
Pros – inexpensive, very small, includes ambient light sensor, logs motion events in LifeSmart app
Cons – LifeSmart bridge required, ambient light sensor not exposed to HomeKit
To wrap things up, I've included a chart that compares most of the HomeKit compatible motion sensors on the market, just to illustrate the wide variation in function and features.
| | Motion | Humidity | Temperature | Light | Sound | bridge required? |
| --- | --- | --- | --- | --- | --- | --- |
| Elgato Eve | | | | | | |
| Fibaro | | | | | | |
| LifeSmart | | | | | | |
| Ikea Trådfri | | | | | | |
| Philips Hue | | | | | | |
| iHome 5 in 1 | | | | | | |
| EcoBee | | | | | | |