Elgato Eve Vs. Koogeek – The Door & Window Sensor Battle
The opinions and judgements on these two devices are purely subjective and shouldn't be taken as a literal recommendation of one product over another.
With the recent release of a brand new Koogeek product into the wild – namely the DW1 Door & Window Sensor – the inevitable comparisons and questions have come up as to how good it is, what does it do that other sensors don't, and of course, what's it like compared to brand x, y & z. Well in this case I'm just going to do a comparison to the only other door sensor that I have, which is the Elgato Eve Door & Window Sensor. While I could add a third door sensor to the comparison – namely the Fibaro Door/Window Sensor – as I don't own it, and also as this sensor has a few added features not found on the other two, I think it would be fair to leave the Fibaro out of this 'match' on this occasion.
So, I'll do comparisons on five different areas and give a verdict as to which wins each round and the total amount of wins producing my verdict on which is the all-round winner.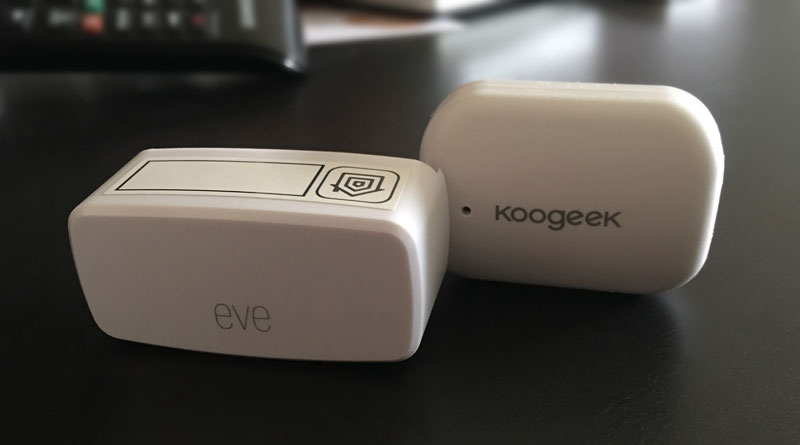 PRICE
So first off has to be the basic cost of each device; The Koogeek can currently be purchased from either Aliexpress.com or Tomtop.com (both based in Asia), whilst the Eve Door & Window can be found on Amazon.com amongst others. Both are available with free shipping, if you're in the US, but if you need delivery to a non-US address, only AliExpress and TomTop offer free shipping. As of typing this article, the Koogeek is available for approx. US$28.00, whilst the Elgato Eve comes in at approx. US$40.00. So, taking into account free shipping in both instances, the Koogeek easily wins on price by a rather large US$12.00.
[UPDATE]  Both Koogeek and Elgato Eve sensors are available on Amazon.com, and the prices mentioned above are no longer as accurate in this respect as they were at the original creation of this article. The Elgato Eve Door Sensor is now cheaper than the Koogeek Sensor, so I am adjusting my score to give Elgato the win on this point. 
Winner – ELGATO
PERFORMANCE
Both devices communicate via Bluetooth, which is known to have a smaller range than wifi, but as the Koogeek is a newer device, it comes shipped with Bluetooth 5.0, whilst Elgato Eve, being an older device, comes with Bluetooth LE, or Bluetooth 4.2. According to RF Wireless World BT 5.0 is twice as fast as BT 4.2 and has 4 times the range. BT 5.0 has a lower power requirement and is better in a variety of other areas, so it would seem BT 5.0 is a vast improvement over 4.2. In the real world, this probably makes little difference if your device is near enough to the hub that it transmits to, however, the Koogeek's use of BT 5.0 pretty much wins this due to the extra distance it can reach which means you're able to place it further without transmission problems.
Putting the numbers to one side, in practice, I have seen no difference in speed between the two in terms of how fast they react and how quickly the change in status appears in the Home app, and I'm also told that BT 5.0 isn't currently supported in iOS devices or the current Apple TV, but based on the Bluetooth difference alone and taking into account 'futureproofing', I have to give it to Koogeek.
Winner – KOOGEEK
ADAPTABILITY
I would say this section is about how well suited each device is to different types of placement situations, as not all doors are the same, and neither are our requirements. looking at the Koogeek and the Elgato, the brains of each device is fairly similar in size, although the Eve is probably about twice as deep and slightly wider. If this is the part that attaches to the door, is should be of no real concern.
The magnet part of both products is a slightly different story however, as the koogeek magnet is very slim (10 x 25mm), with the Elgato a square 15 x 15mm). This would give the edge to Koogeek if the door frame was especially thin, but what the Elgato brings to the table is in some ways more useful; Elgato ship a small set of adaptors with the magnet part, which basically clip to the back of the magnet to allow for extra height or width (depending on how you look at it). This is very handy if your door and frame don't match up or the door is in some way recessed. For this reason I would say the Elgato wins out.
Winner – ELGATO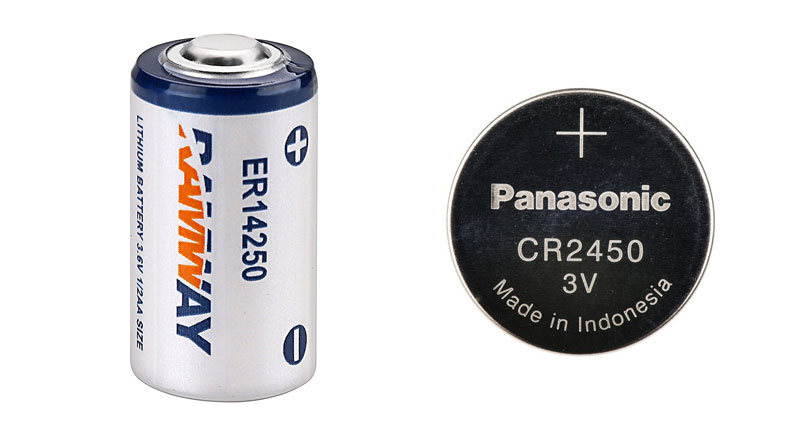 BATTERY
The Elgato uses the less common ER14250 battery, otherwise known as a 1/2 AA battery. The Koogeek uses the much more common CR2450 battery. While both these batteries can be found easily enough online, only the CR2450 can be bought at most general stores, while the ER14250 is nowhere to be found. A quick look on amazon.com also shows the price difference between the two – I found a single ER14250 selling for around US$6.00, while for just US$8.00 I could buy a four-pack of CR2450s by a reliable manufacturer (Energizer). This round goes to Koogeek again.
Winner – KOOGEEK
ACCESS & BATTERY REPLACEMENT
The Elgato, as should be the case, was a piece of cake to get into, when trying to get access to the battery. You simply pull down and the main body of the device simply slides of the frame that attaches to the door. The Koogeek, on the other hand, is nowhere near as easy. Koogeek and at least one other person have managed to open them by hand, but in the case of a forthcoming review by Chris Young from Homekitgeek.com you'll see how awkward it is to get into the casing.
I was forced to quit on my first attempt, fearing I'd break the device before I'd even managed to use it, but eventually, after a second try, I was able to get into the case, although not without leaving some ugly marks on the casing. Replacing a battery shouldn't be this difficult or force you into using tools to get into a device, but in my case this wasn't a great experience. Elgato easily wins this one.
Winner – ELGATO
So, on those basic five areas, we have a winner, but it wasn't as straightforward as you'd imagine. Koogeek could easily have won if the casing was easier to get into, and they included some kind of adaptor, but they didn't. Costs may be a reason for the lack of door adaptors, but the problems experienced with the casing is just bad design.
FINAL RESULTS
KOOGEEK 2/5   |   ELGATO 3/5