Hue Working on Outdoor Motion Sensor
If there's one thing that people ask most often about the Philips Hue Motion Sensor, it's whether it's suitable for outdoor use. Well, it would seem that Hue are going to answer that question soon, as they're currently working on a dedicated outdoor version of their popular indoor sensor. Dave Zatz on his twitter account (@davezatz), who previously spotted the FCC filing for an Ikea Smart Blind controller, has now shared an image showing what appears to be a label designed to go on a 'Hue Outdoor Sensor', with model number information and a waterproof rating of IP54 and of course uses Zigbee.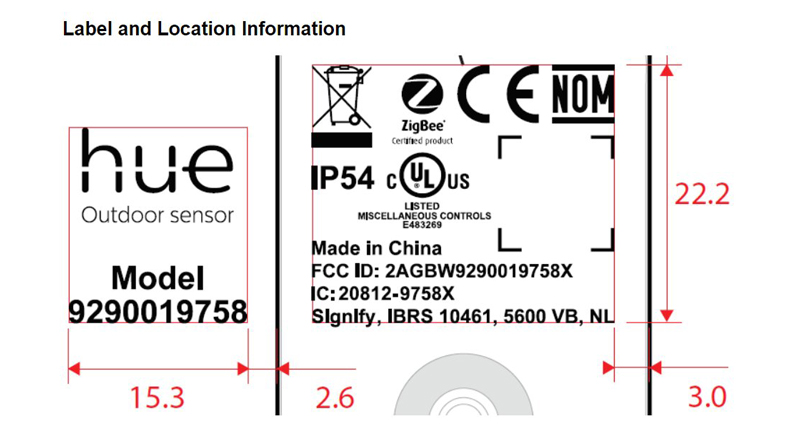 Other than the label itself, there's not a lot go on as to when it's out, or what it will even look like, although it could well look quite similar to the design of the current indoor sensor. The IP54 rating, according to official data, does indicate that it will provide "Limited protection against dust ingress (no harmful deposit)" and "Protected against splash water from any direction.", so while it would seem it is waterproof to some extent, it would still probably need to be under cover when used outdoors.
Finally, the idea of an outdoor light sensor being able to trigger the outdoor Hue lights introduced over the summer would be a no-brainer, so for those with a garden and some outdoor lighting. If the Outdoor sensor includes the Temperature and ambient light sensors of its indoor sibling, then there would be plenty of scope for intelligent automation;
The temperature sensor would tell you if it's generally warm enough to have an outdoor barbecue for example and if you need a sweater or just a tee shirt. The ambient light sensor could detect when it gets dark and then automate lights to come on at the right time, but only if it detects motion in the garden with the motion sensor.
there's plenty to look forward to.